After browsing this forum for a couple years and looking at maules to buy, I just (like today) traded my Scout for an M7-235. Injected, long wing. It's not perfect, and it's not perfect for me, but I'm excited to learn a new airplane. It climbs like a rocket, pretty wild.
I did an hour insurance checkout this morning with an instructor, but would love to hear any advice on techniques. I'm flying it across the country currently, have been cruising 22/2200 leaned to about 12.5 GPH (no real good EGT info, just flow).
Seems like one thing I need to work on is getting it slowed down from cruise to approach... it seems to like it's speed. The 31's will help with that I'm sure.
I'm intereted in hearing what numbers (or feel), and techniques others are using for short landings and takeoffs. So far I've been doing them by the book while I learn the plane. 60-65mph approach with full flaps. Seems like AOA is a limiting factor, on the slow end what would be a wheelie in the Scout or 180 is a 3 point in the maule. Guess the 31's will help with that too.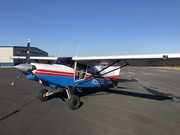 Thanks to Andy Young and Trebor for helping me out, and I got lots of info from this forum already.
If anyone wants a mesh patroller seat and wants to give up their standard seat, I'd be happy to trade...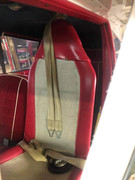 -asa